Many people rely on Facebook to store photos, videos, and other information.   However, this creates a worry that they won't be able to get back their data should their account be hacked or Facebook goes out of business :).     Facebook responded to this concern with an option to download "everything" you submitted.     The limitation is photos and videos are not sent in their original full resolution so I wouldn't rely on Facebook as primary storage.   You could go to each photo or video and manually download but that can be time-consuming.   Additionally, the download is actually a fully navigable website without distractions that shows some information you may not know Facebook has on you.
Quick Instructions
Click

Download a Copy of your Facebook Data 

You will be prompted for your Facebook password.
After maybe an hour, Facebook will email you a link that will allow you to download a single Zip file with your data.   This download will also require your Facebook password.
Once downloaded, double-click on the downloaded zip file which is usually named Facebook-userid.zip.   This will expand the file creating directories and populating the directories (like a sub-folder called Photos) with your data
Double-click on Index.html.    This will open your web browser and allow you to navigate what you downloaded.
To take your pictures or videos to other services or folders, navigate to the folder using Windows Explorer/Mac Finder.
Results
After step 5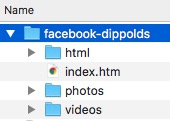 After step 6…some surprises looking at the ad info….